We're happy to let you know that we have just added Optical Bonding to our customization offer. You can now easily enhance your display's optical performance and durability.
What is optical bonding?
Optical bonding is a process of affixing the touch panel (or just the protective glass) to the display using a liquid adhesive. In general, this process improves the parameters of the module – the optical performance, as well as durability.
The process uses an optical-grade adhesive to glue glass to the top surface of a display. It eliminates the usual air-gap between the touch panel and the display.

When removing the air gaps, we reduce the number of internal reflecting surfaces, which lead to degradation of optical performance. This phenomenon worsens readability (especially for outdoor environments), by decreasing the brightness and corrupting contrast.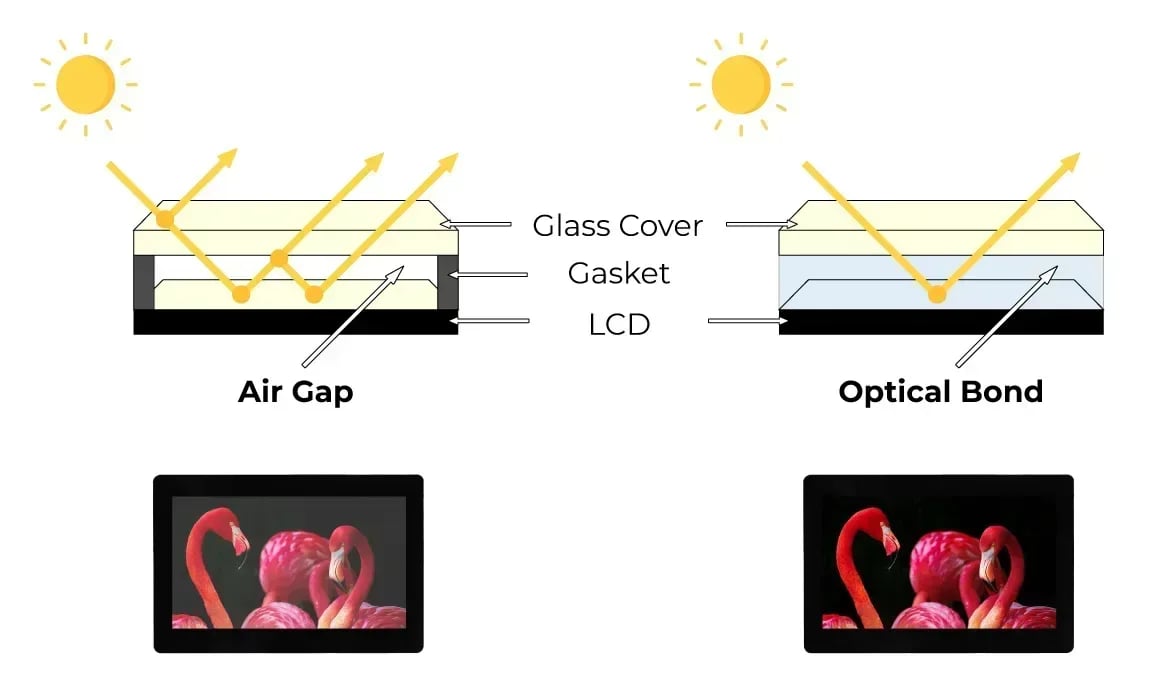 Main advantages
The main advantages of optical bonding are:
Increased ruggedness: Bonding a sheet of glass on top of the display increases the ruggedness of the display
Condensation: The elimination of an air gap is especially important for outdoor applications. It provides better tightness of module assembly.
Improved durability: A bonded display is better able to resist scratches, fluids, stains, and dirt.
This type of technology is getting more and more popular on the market, and so it becomes more cost-effective, also the production times curtails. Prices vary based on the size of the module, optical glass surface treatment, volume, and lead time. For optimal parameters, the price can fluctuate around a dozen USD.
If you want to learn more about optical bonding, visit the official page.