HDMI LCD displays, how to use them and what their main features are
In this article we will talk about Riverdi HDMI LCD displays, how to use them and what are their main features.
The display we will talk about is one from our offer. It is a 10.1-inch HDMI LCD High Brightness Display, of 1280 by 800 resolution, and a 1000 candela brightness. It is IPS type, so the image is seen clearly from all angles. On the back of the display, you can see an HDMI board. The board converts the HDMI signal, that is available on output in most computers. Next, we have a USB C connector. HDMI of course is for the video content and the USB is for the touchscreen because this display is equipped with the touchscreen feature. It's easy to use, you just need to connect it to your computer. In a case of a 10.1 display we also need a separate power supply and there is also a jack connector for that purpose.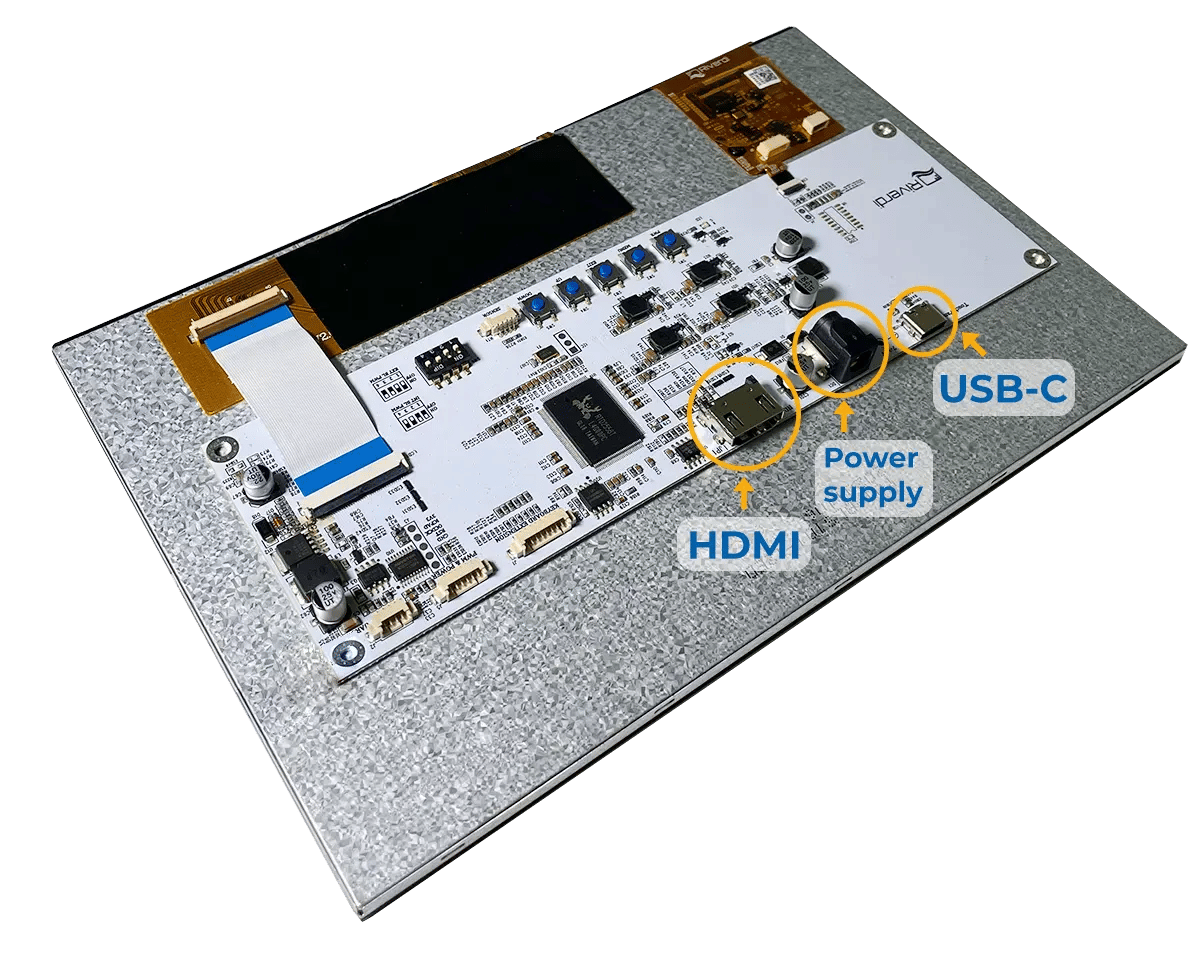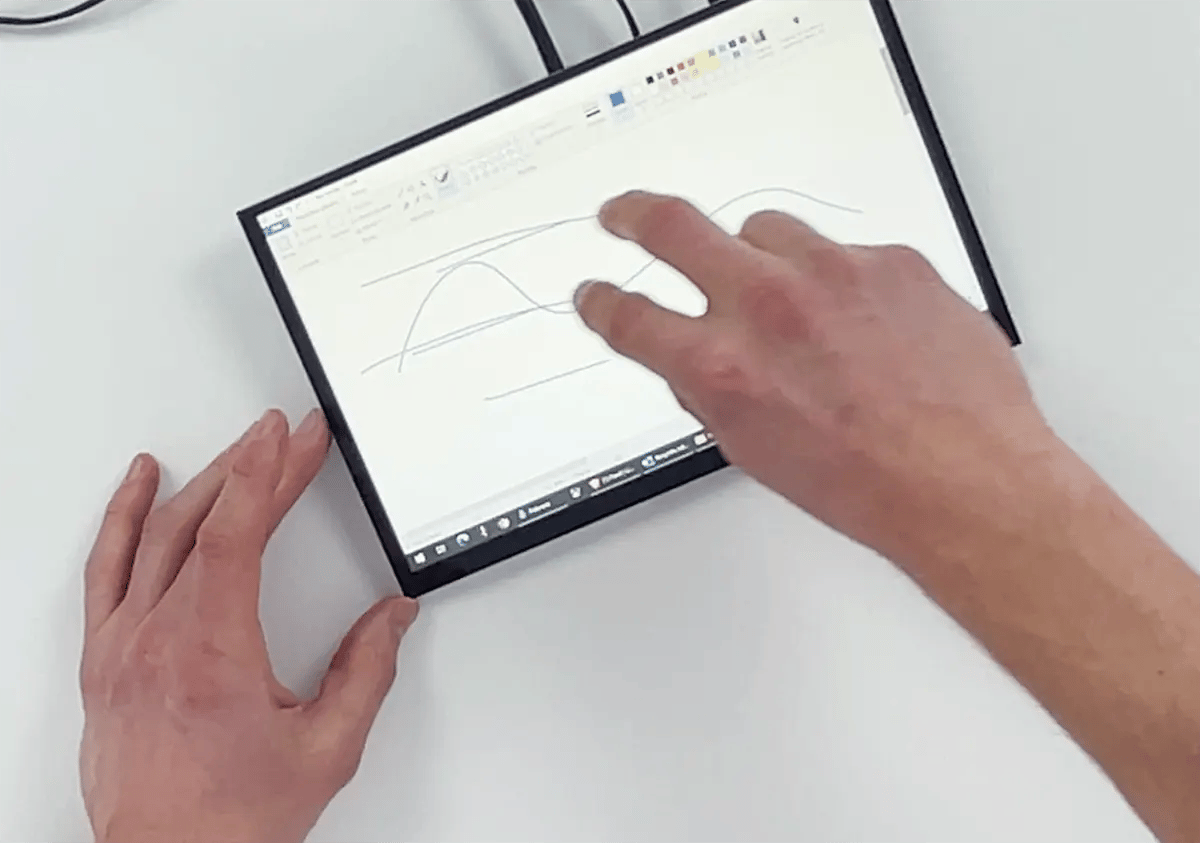 When you have connected the HDMI, USB C and power supply, you can see your computer desktop on the screen. To check if the touchscreen is working, just run the Paint software. The touchscreen is working very smoothly.
You can switch the color and draw something using your fingers. As it is a multi-touch touchscreen up to 10 points, you can easily draw two lines, three lines or even five, at the same time, whatever you want, up to 10 points. The touchscreen feature is connected directly to Windows and recognized by the system and all the settings are setup in the firmware of the board, so you don't need to worry about the resolution of the screen or the touch functionality itself.
Riverdi 7-inch HDMI LCD display features
The other display from the same series is the 7-inch HDMI LCD display model. It has a different resolution: 1024 by 600 – still high for a 7-inch display. It is the same technology as the earlier model, IPS class and high brightness of 1000 candela. Such very bright displays can be used both, indoor and outdoor. This display is equipped with a similar HDMI board, HDMI port, USB C port and a power supply connector. What is important, and different for the 7-inch is that you can power it only from USB C. An external power supply is recommended, especially if you have an older computer that might not supply enough power. If you have a USB 3.0 port, however, you should be able to power the 7-inch HDMI LCD display directly from USB (You can check the HDMI LCD displays power requirements in our data sheet).
The display and the touch work the same as before and it is also automatically recognized by the system. With this kind of an HDMI LCD display you can very easily build an additional display in the system. If you have an application where you use a computer, and you have an HDMI output, you can directly connect our HDMI LCD display and have an additional or first display with touchscreen functionality.
Riverdi HDMI LCD displays – additional connectors and optional cover glass
In this model of the HDMI LCD display, on the display board, we have a few additional connectors. You can connect an external keyboard and there is also a Backlight PMW & Power connector for the brightness setting. As many industrial computers have the PMW output, the system can control the brightness of the display, so you can setup one setting internally but also provide it from an external source. Our displays are high brightness so it may be useful during the day having them as bright as possible but lower the brightness during the night, and for that purpose this connector may prove especially useful.
Another distinctive feature of our HDMI LCD displays worth mentioning, apart from the IPS and high brightness, is the touchscreen. All touchscreens used at Riverdi, are our own design and they are all industrial grade. That means they can be used in a noisy, industrial environment, they can be operated with gloves, and they can even work covered in water as they can work with thicker glass. You can apply the additional glass yourself, or we can do that for you. The cover glass thickness is up to 15 millimetres, and you can use it in the outdoor environment as it meets vandal-proof requirements. The capabilities are already built in so we will not change the touchscreen itself, just change the firmware.
Riverdi HDMI LCD displays – mountings, MOQ
Our standard products can be equipped with a mounting frame with added hooks that make it easy to fasten. We also have a different version of the HDMI touchscreen display called uxTouch. The user experience with uxTouch is of tablet style. That kind of HDMI LCD displays can be mounted (there is a version with glue tape) in your device housing because of its really beautiful design.
What is important is that Riverdi products are very high quality, there is no MOQ (minimum order quantity), so you can order anywhere from 1 to 100 pcs, they are mostly available from stock in the factory or with our partners worldwide, so the delivery time is typically short.
Riverdi – the highest quality European display manufacturer
Why should you trust us and our products? Riverdi is the highest quality European display manufacturer. We have been producing TFT LCD displays for over 10 years, and have many customers worldwide to which we regularly deliver displays. On our website you will find many series of different displays, but what we deliver is not only the highest quality displays, but also perfect documentation. On the website you will also find 3D models of every display, most of them come with an EMI report, so you learn about the emissions level. The order process is user-friendly, if you want to order a sample, you can buy it in our web shop. Just go to Riverdi.com and from the Products menu select the HDMI LCD Displays or use the link https://riverdi.com/product-category/hdmi-displays/. You can also contact one of our distributors. Riverdi has a wide distribution network including many US partners that can deliver the display to you at once.
Please remember to SUBSCRIBE to our YouTube channel and fill out the MEMBERSHIP FORM,
to stay informed about our Riverdi University materials and live events!