Embedded World Exhibition & Conference is one of the most important places for the embedded community & industry to meet and develop valuable business contacts. In 2023 edition Riverdi products – including one 5" STM32 worldwide premiere – were present at three booths each hosted by the industry leaders and our partners: STMicroelectronics, Toradex, and Bridgetek.
New MIPI DSI enabled industrial displays series – Toradex
Riverdi and Toradex have joined forces to introduce a new series of display modules that can satisfy industrial needs. These MIPI DSI displays boast high brightness (1000 cd/m2), IPS technology for a full viewing angle, and PCAP for a touch interface. The best part? They work out of the box with the Verdin family SBC.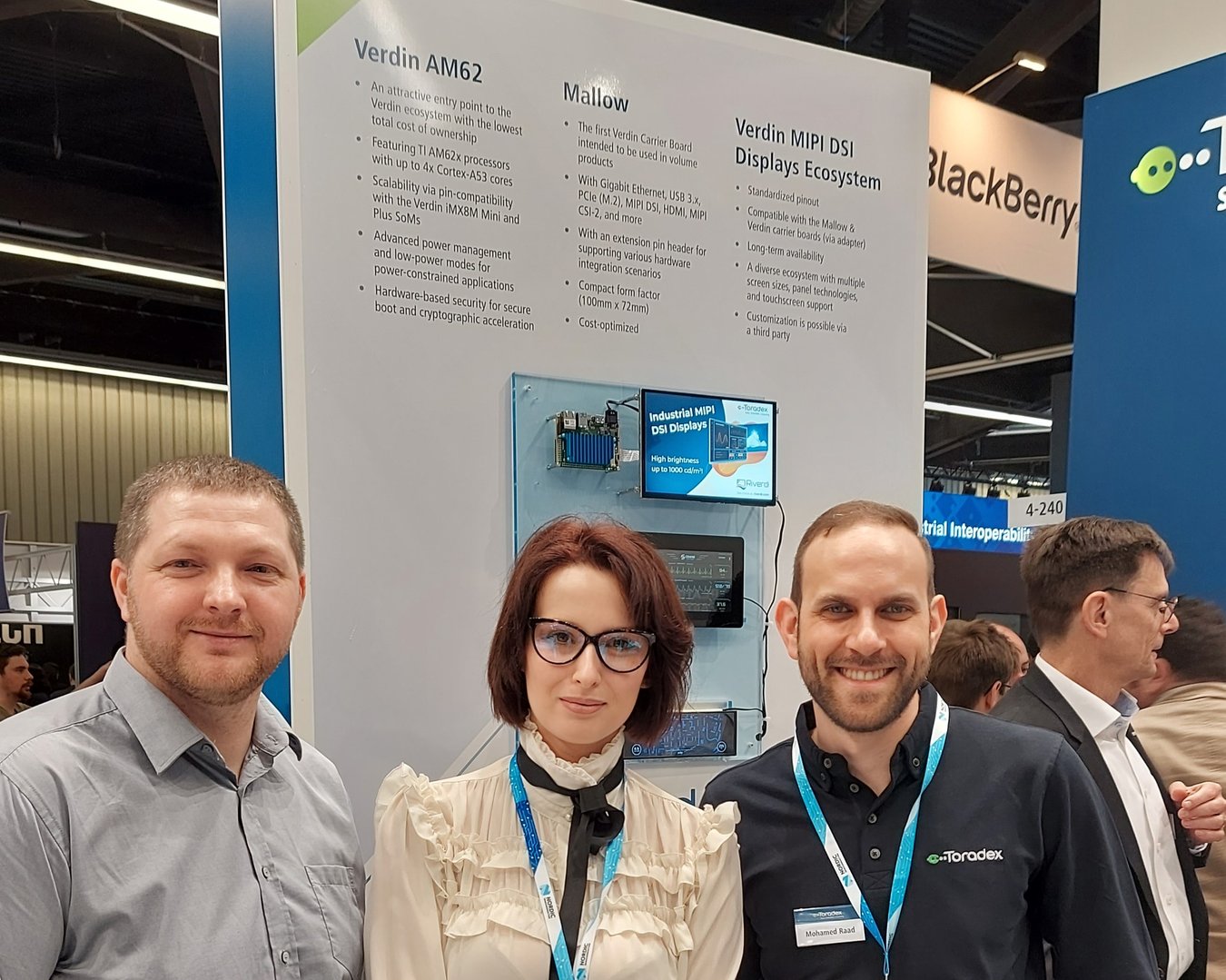 Our goal was to launch this innovative product line at the 2023 embedded world exhibition, and we are proud to say that we made it. Visitors at the Toradex booth got a glimpse of the 10.1″ aTouch module in action, displaying vivid colors and exceptional visibility with outstanding brightness. It was really hard not to notice it!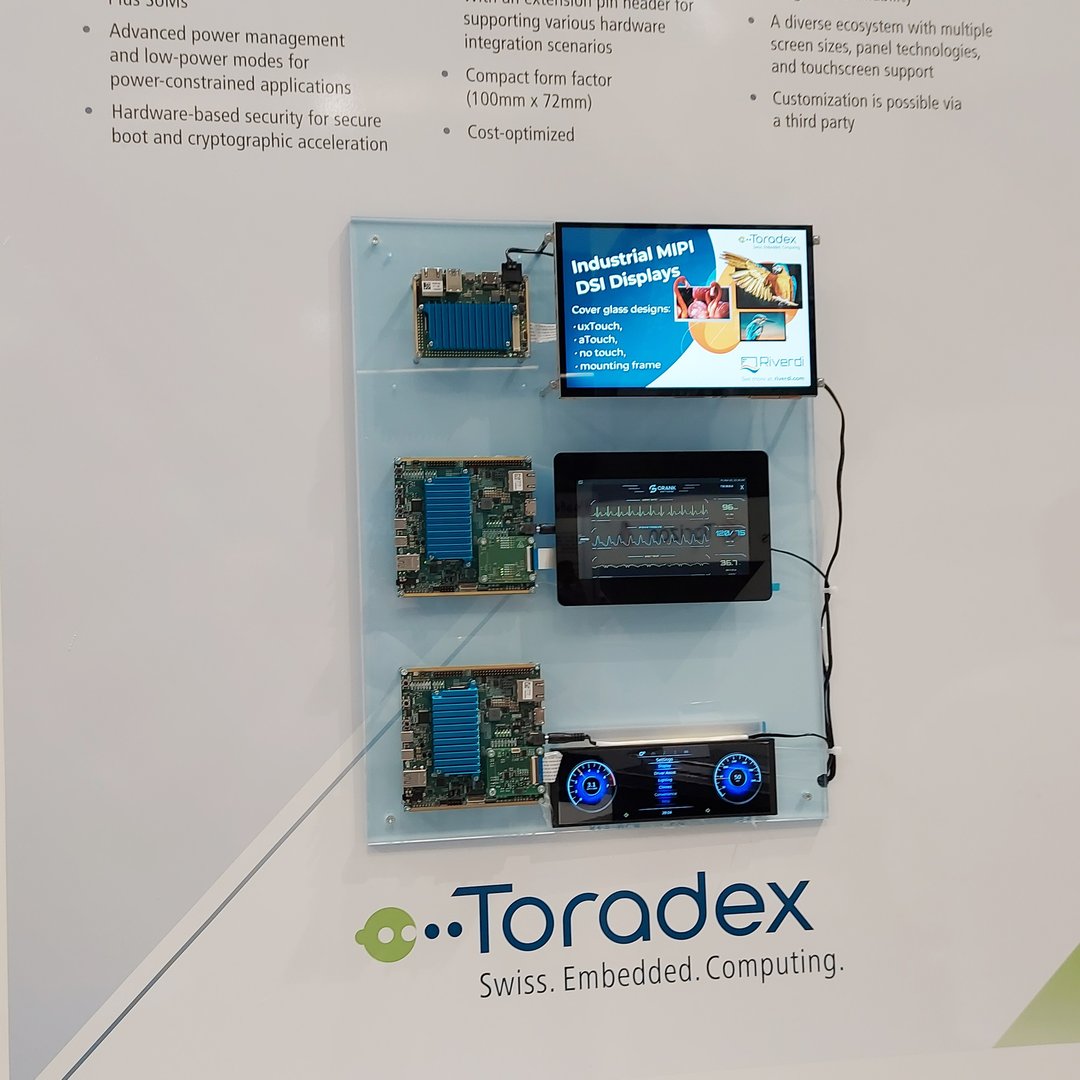 And the good news is that we also have a 7″ display size available, perfect for a wide range of applications. Stay tuned for more updates and availability announcements, and feel free to contact us for customization options to tailor the product to your specific needs.
Further development of STM32 Embedded Displays – STMicroelectronics
Riverdi announced its successful launch of the 5″ high-quality display module based on STM32U599 microcontroller at Embedded World Exhibition & Conference 2023. This exciting project was initiated in collaboration with STMicroelectronics and aimed to deliver a top-of-the-line display solution to the market.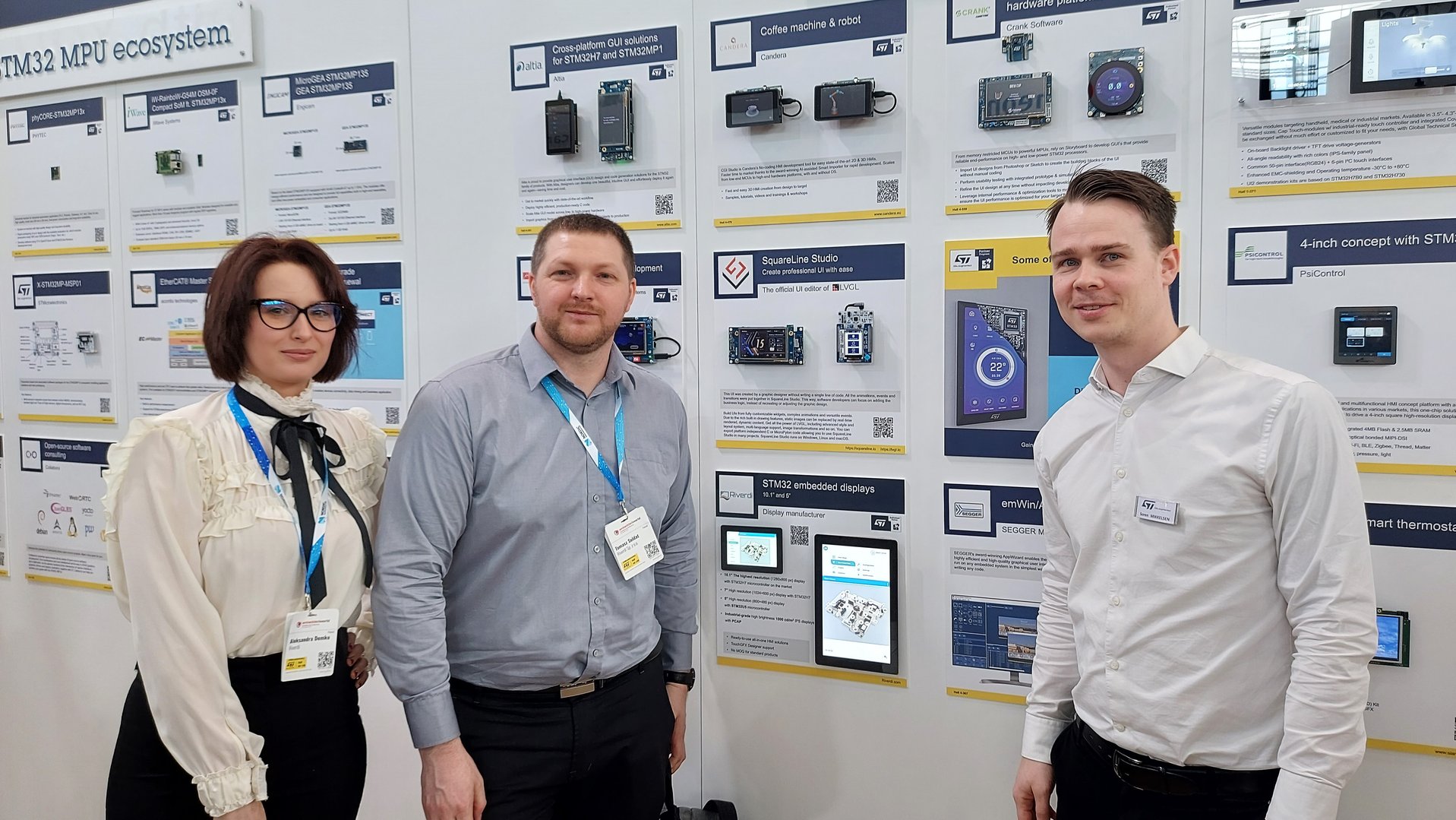 Visitors to the STMicroelectronics booth could witness the 5″ display module based on the STM32U599 MCU, along with the 10.1″ module with STM32H757 MCU launched back in 2022. Both modules featured Riverdi's signature high brightness (1000 cd/m2), IPS full viewing angles, and optically bonded displays. The 7″ STM32H7 module is also available, but it was not present at this year's exhibition.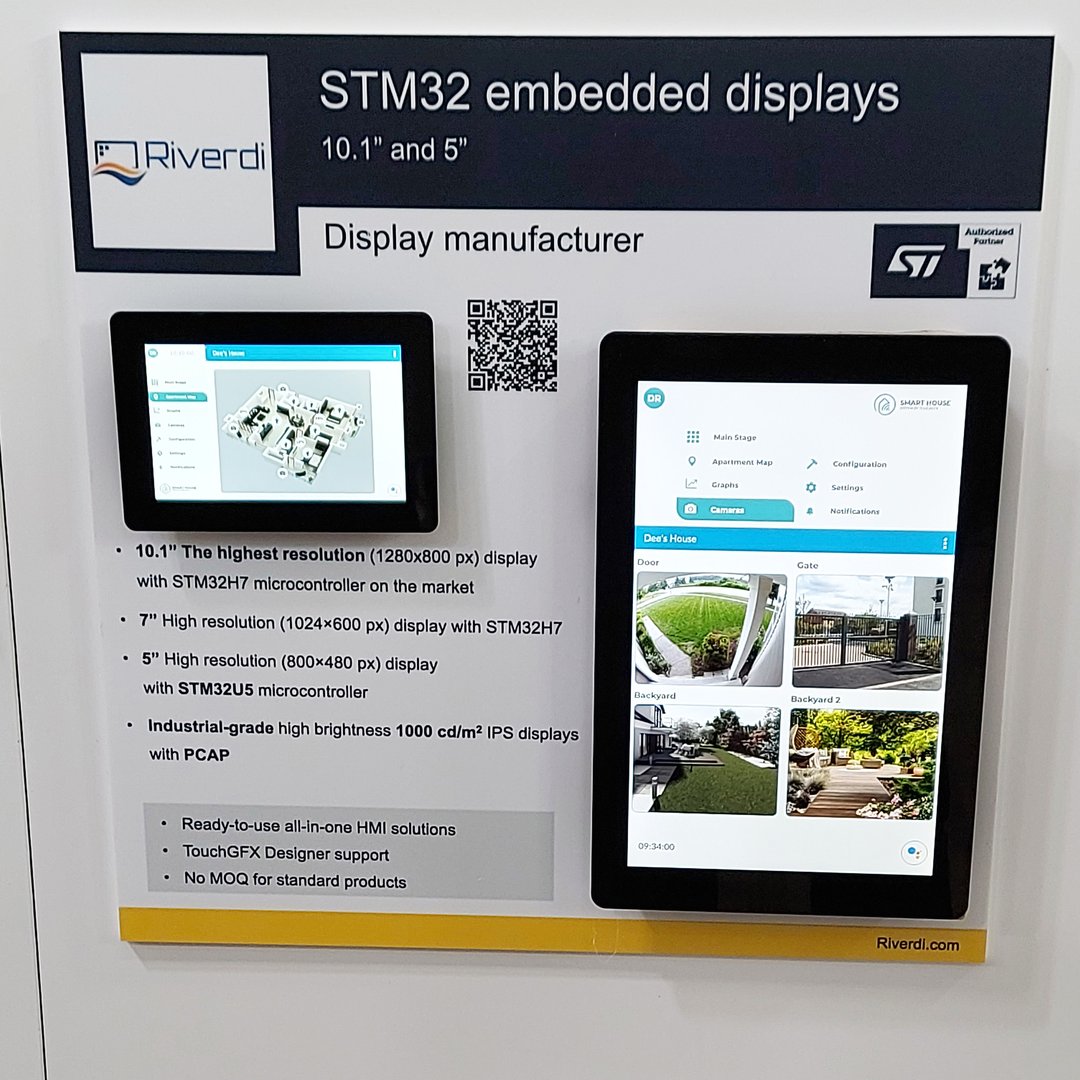 With the Riverdi 5″ display powered by STM32U599, for the first time ever, STM32 microcontrollers now come equipped with a GPU. The STM32U5x9 is capable of running 3D-like effects that were once only possible on microprocessors. This new technology offers hardware support for SVG images, texture mapping, rotation, scaling, and more. Additionally, graphics assets can be stored directly into the embedded flash of up to 4MB, while the double frame buffer is held in the embedded RAM of 2.5 MB. This makes it an all-in-one system that is incredibly versatile and easy to use.
The 5″ STM32U599 module will soon be available on Riverdi's website, please keep an eye on our newsletters and social media for further updates.
What's even more exciting is that the product is customizable, with options such as optimizing the cover glass size, painting, thickness, or even redesigning the PCBA. Customers interested in customizing the module can contact us for more information.
EVE4 Intelligent Displays powered by BT817Q – Bridgetek

Riverdi introduced the EVE4 High Brightness IPS display module series back in 2020. This cutting-edge display series is powered by the Bridgetek BT817Q chipset, enabling users to run high-resolution graphics and videos with a very low-performance microcontroller via the SPI interface. Additionally, Riverdi has found a way to pair the BT817 with the Ilitek industrial CTP driver, allowing users to drive both the graphics and touch panel with the same SPI channel.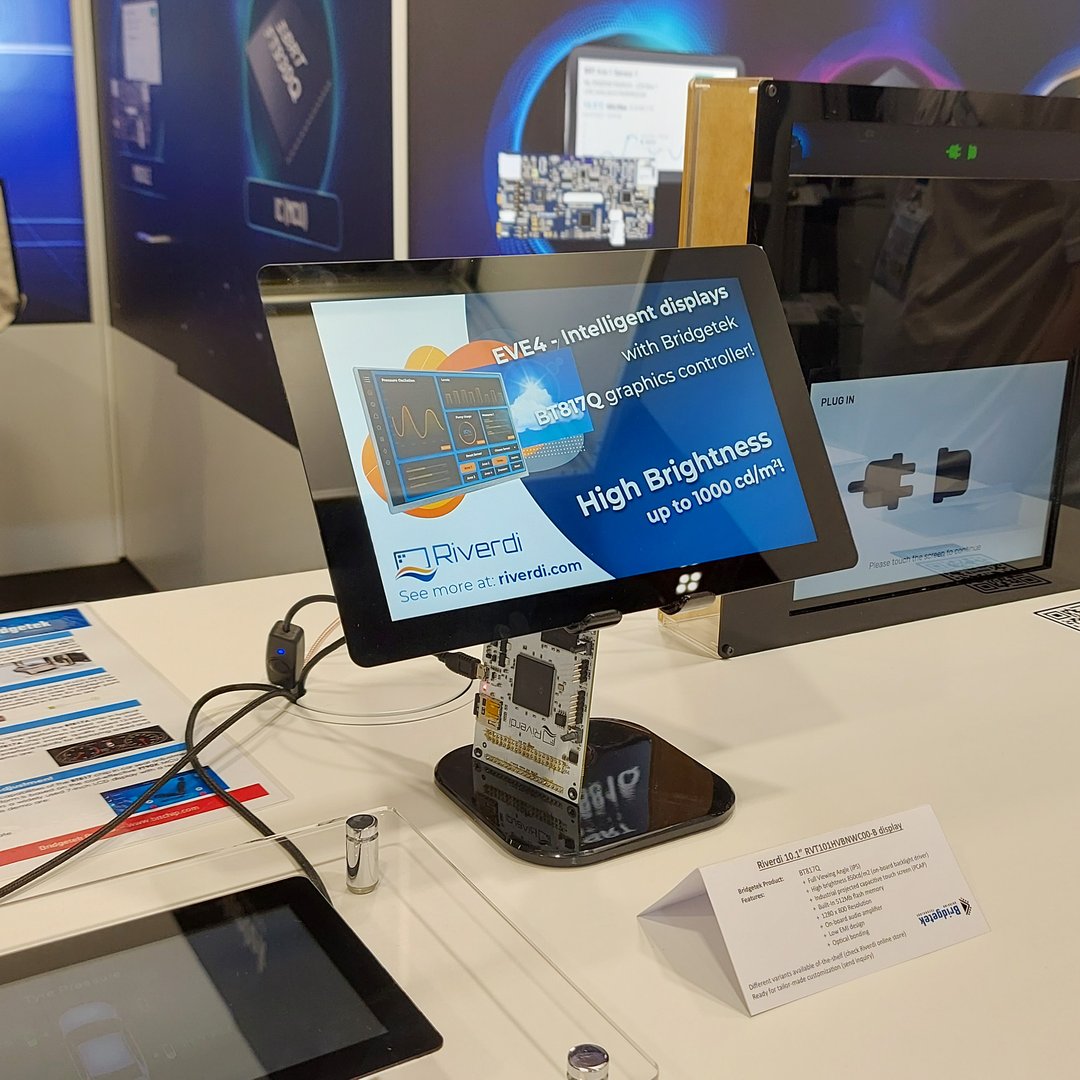 At the recent embedded world conference, attendees had the opportunity to witness the stunning performance of the 10.1″ 1280×800 resolution display module in action, running at a remarkable 1000 cd/m2 brightness with full view angle capabilities. The difference was immediately noticeable from a considerable distance, making this display a standout feature for any application.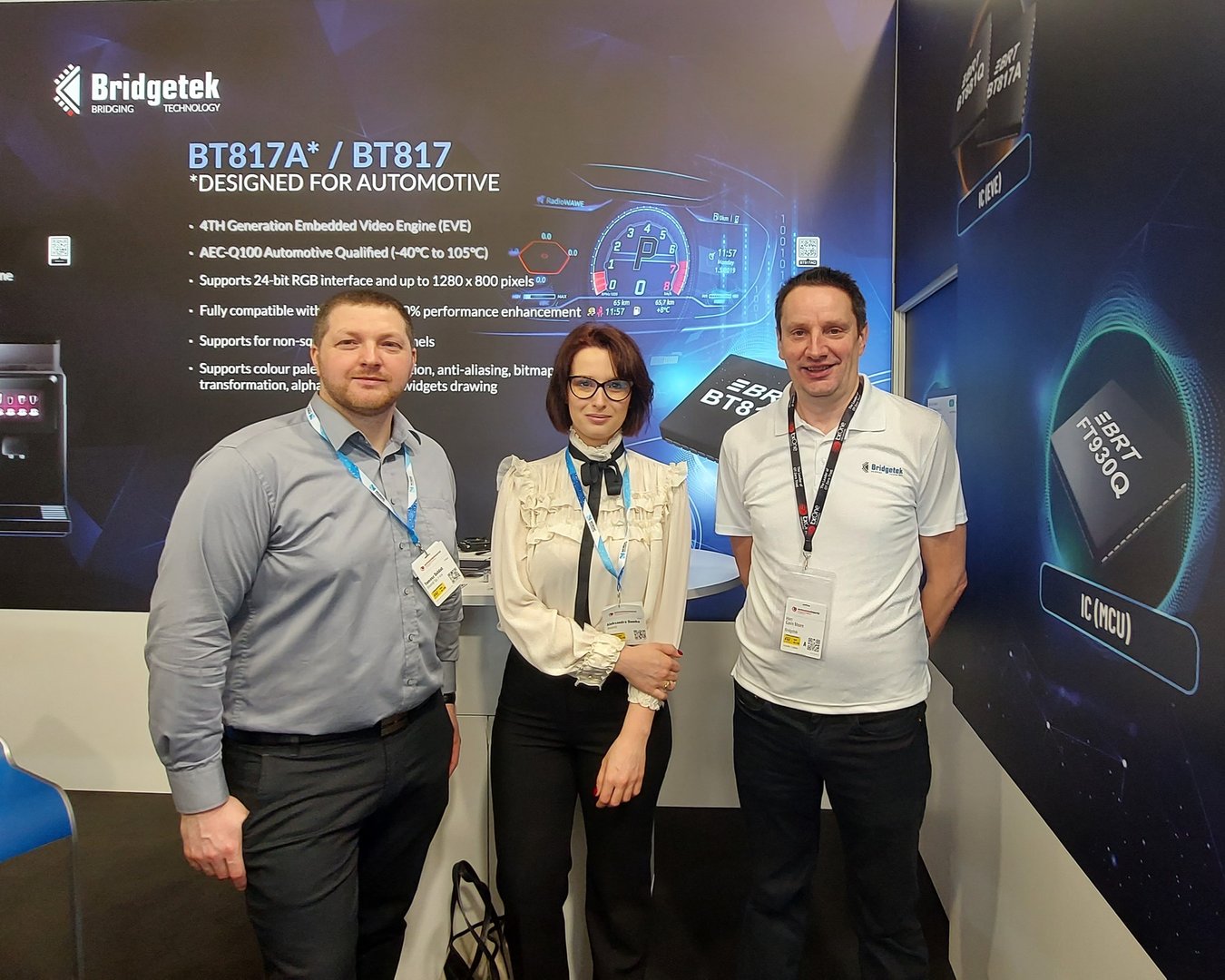 Getting ready for embedded world 2024
Riverdi Team was represented on-site by our top engineers: Aleksandra Demko-Karolczuk (Project Manager) and Tomasz Soldat (Solution and Product Department Manager). They held in Nürnberg, Germany many priceless meetings and visited places showcasing Riverdi displays.
We are looking forward for the next edition of embedded world – we hope to meet you there!
Meanwhile, if you wish to know more about Riverdi displays, customize them to fit your project, or just get to know more about specific features – contact us.
Stay updated with upcoming releases and announcements by signing up to newsletter and subscribe Riverdi social media channels.