While the worldwide pandemic is putting a stop to many construction projects, here, bang in the center of the European winter (yes, winter has definitely started in Northern Poland), we have put our construction helmets on and are expanding the premises!
Yes, that's right! We are in the initial phase at the building site and we couldn't be more excited! Every day as we arrive to work, we can see the results of the hard work of construction workers with their thick, yellow gloves on, working tirelessly to bring us our new, shiny headquarters as soon as humanely possible. We feel we deserve it. In the past six years Riverdi team has been determined to develop the best products that would facilitate our clients' work and we have succeeded. With a rapidly-growing client base, we need more and more highly-skilled personnel to satisfy the demand for our displays and just as we pride ourselves on providing our clients with the best possible service, we are equally as committed to providing the best possible working conditions to our own team.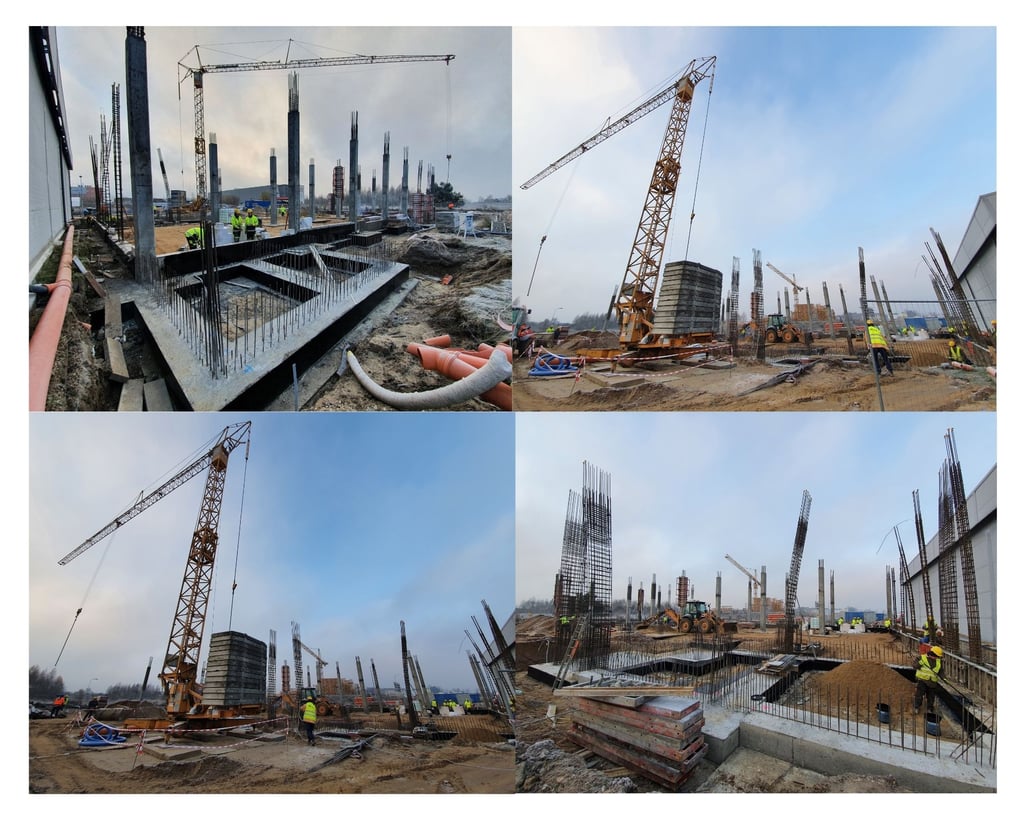 The new building will have 3000 square meters and is scheduled to be finished in less than a year! So, while everyone else is dreading going back home after their lazy weeks on the beach in Barbuda, Riverdi team will be looking forward to getting back to our spanking new place of work, bringing even more innovation inspired by the sea, sun and sand. Oh, we really can't wait!
So what exactly has changed?
Since the birth of the company back in 2014, the number of engineers, production workers, product and process specialists, sales people and other magic workers has risen drastically by almost 400% and we are constantly recruiting so the trend is unlikely to stop any time soon. Creating a perfect display is not an easy task so our recruitment process is pretty demanding, we are looking for the best of the best in their respective fields and that means we need to look after our professionals adequately. To that end, our new building will span three floors of 1000 square meters each full of modern solutions.
A massive warehouse on one entire floor will allow us to keep a large stock of ready-to-ship displays shortening significantly the waiting time for our clients. RnD will not only get their own designated area to invent and improve but we are also planning specialized opto-electronic and mechanical laboratories allowing them for a much wider testing range. All their efforts can then be displayed in the brand new showroom that we are planning to dazzle everyone in on the way to the spacious, smart conference rooms. And, when they need a break, we've got them covered too, whether in the kitchen, the relaxation room or on the terrace where we are hoping to get some yoga classes by the setting sun.  Oh, and have we mentioned the kids room? Yes, we are supporting parents by providing a safe space for their biggest treasures right here, close to those who care about them the most. In the 21st century we do spend a lot of time at work and it is very important that our employees feel secure, happy, and comfortable.
As you leave the premises, you might notice the solar panels that will be powering all those electricity needs inside the building as well as electric chargers for vehicles outside. We are very much aware of all the environmental challenges humanity faces today and we are committed to doing our bit.
As people, we are very visual, we're surrounded by images and we need them to be big and bright so screens will only get bigger, brighter and more responsive and Riverdi is planning to be at the forefront of those changes providing high-quality displays and touch screens. If those workers at our building site were using Riverdi touch screens, they wouldn't even need to take their thick, yellow gloves off…
So, we are closing the 2020 content and thriving, watching our new building grow, we only wish for one thing: just as everybody around the world wants at least one construction guy from Poland on their construction team, we hope everyone who needs to put together a screen will soon think of Riverdi for all their display needs.