The latest addition to the High Brightness IPS display family has just arrived! The big brother, or, the biggest, brightest and best behaved brother of all does have the parameters to boast about. Just like its smaller siblings, it features optical bonding and industrial CTP controller as standard which means that, for example, sunlight does not hinder visibility at all and its longevity is guaranteed.
We have been listening to what a lot of our customers said they need and decided to add this larger size to the spectrum of HB IPS displays available off-the-shelf. We already have several projects being developed with 10.1" displays as they are so obviously perfect for products like vending and ticketing machines, control panels or any others requiring that extra space.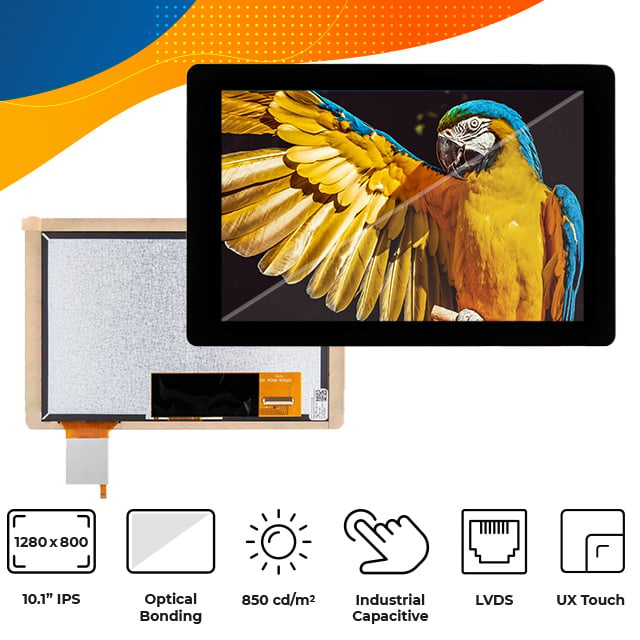 Unlike the TN displays, IPS give the full viewing angles letting you see everything clearly from any angle.
The high brightness is no longer an option. In the modern world we live in today, we all expect bright, colorful displays that do not strain our eyes or imagination.
Optical bonding means even better optical performance and durability. This is where white has that crispy fresh feel and where black is really black.
Industrial CTP controller means this display will pass the toughest requirements, even in medical industry. Adding the touch functionality to be used with gloves or water is just that cherry on top.
But, with this 10.1" display there actually are two more top features so pick whatever fruit wins with cherries for you. Firstly, the resolution; 1280×800 pixels give the clarity you want. Secondly, and we really did keep the best till last, zero bad pixels. That's right, an industrial display that comes with so many technical advancements as standard that it resembles a super version of customer grade.
Apart from the visual discomfort bad pixels cause, there are very important practical disadvantages to working on a screen missing a seemingly tiny dot. The importance will vary across industries but it is perhaps best illustrated in medical devices where even a single bad pixel may change image enough to lead to wrong conclusions and dramatic consequences.
We've said it before, we'll say it again: our pixels behave.