Our new SmartTag displays are available in the shop! They are ultra-low-power, easy to use displays intended for smart electronic label solutions. They are a result of our new partnership with Lummico the innovative e-paper tag producer.
Of course, we have three different versions of the e-paper SmartTag display to choose from:
Read the full post to learn why you'll be using them for years to come.
Perfect for smart labels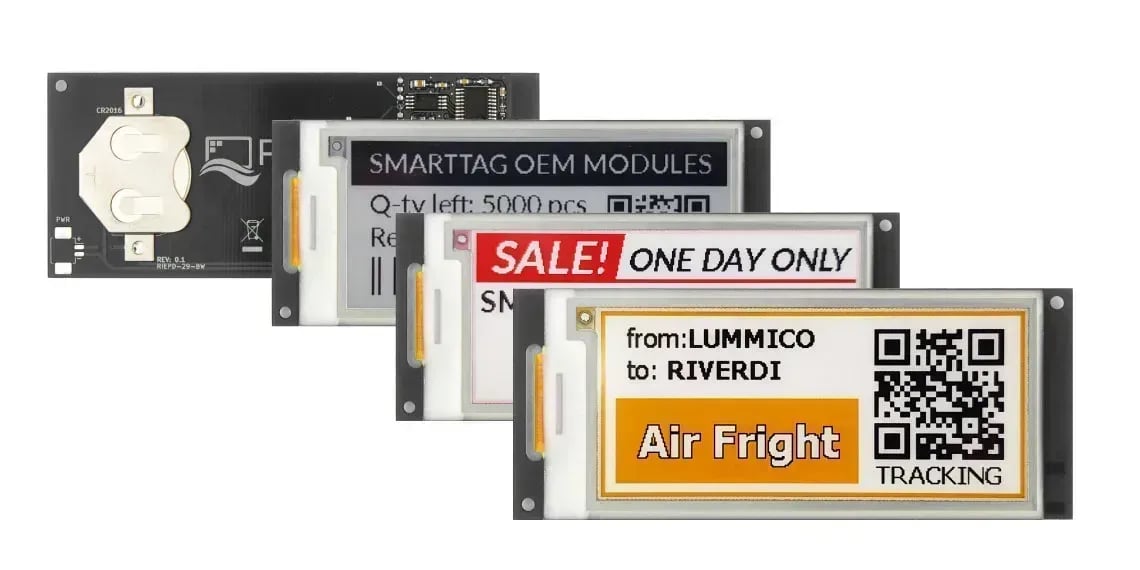 Our new line of displays is perfectly suited for smart retail –  could easily become your electronic shelf labels.
Considering how easy they are to set up and use, and how low their energy consumption is, you'll soon start seeing why people are exchanging real paper labels with them.
Ultra low power consumption
It is common knowledge that e-paper displays have really low power consumption. Most of us are familiar with this from using an e-book reader. But our new e-paper displays have such low power consumption, that you'll forget their not real paper.
They can run for years without any battery replacements. Proven lifetime is up to 5-years when updated 5-times per day or up to 9000 refreshments!

So, in some distant future, all you need to do is change the battery.
Mobile application
Now that you know all the advantages of our new line of e-paper displays, you are probably wondering how you'll transfer your desired image to the screen.
Well, all you need to do is download our mobile application, and let it do all the work.
With our application, you can easily convert graphics from popular image formats like *.bmp, *.jpg, or *.png to the bitmaps which can be uploaded to the module through the NFC protocol. It's done in less than a second!
You can download the mobile application from the Android Play Store free of charge.