TOUCH PANEL
The right kind of touch panel for your application
The right kind of touch panel can be crucial to the success of your application and product. It needs to match the environment the device is placed in. It also needs to match the type of application it will be used in. That is why our offer is so versatile.
Currently, we offer three types of touch panels: 
Resistive touch panels 
Basic Capacitive touch panels 
Advanced Capacitive touch panels 
All offered touch panels are designed by Riverdi engineers.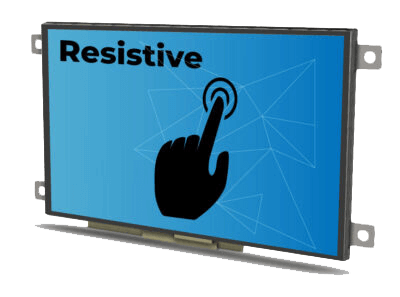 Resistive types of touch panels
Resistive types of touch panels are well-suited for more robust environments, than basic capacitive touch panels. They can be used with a stylus pens or gloved hands. As their name suggests, the resistance measurement is what detects the touch. The pressure on the screen translates directly to change in the Ohm value. 
The main advantages of resistive touch panels are: 
Lower price for smaller sized displays

 

You can use them with a gloved hand or a stylus

 

High EMI resistance

 
Basic Capacitive types of touch panels
Basic Capacitive types of touch panels are extremely touch-sensitive and allow for clear and bright images. We recommend a capacitive touchscreen display if your application needs multi-touch, gestures, and high-precision. Capacitive touch panel technology relies on the capacitance of the human body, and not on pressure like resistive technology.  
Basic capacitive technology advantages are: 
Excellent sensitivity

 

Multi-touch capability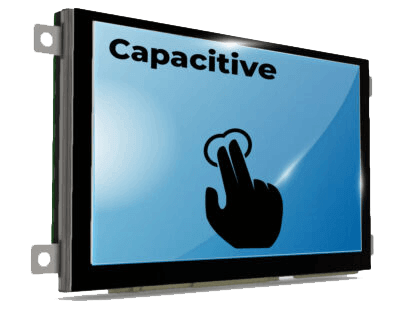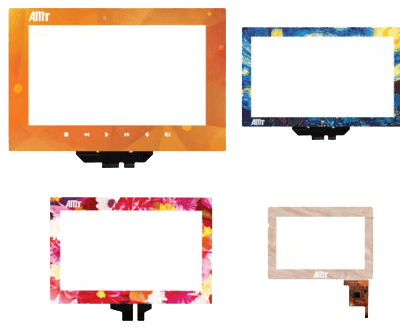 Advanced capacitive touch panels
When it comes to our advanced capacitive touch panels, we have a wide variety of touch IC's available. While designing the products, we use basic touch ICs, as well as high-end – Goodix, ILITEK, EETI, and Penmount.
 
It gives us the possibility of working with utilities and adjusting the touch panel parameters specifically for the customer's demands. Also, we are able to put any graphic design on the glass surface. We are not limited with the simple logos and graphics, but also high resolutions images. 
Furthermore, knowing the application and its specific requirements (like water performance, special coatings, scratch resistance, operating in gloves) we are able to design the best tailor-made solution. 
Explore Riverdi Technologies
Projected capacitive touch panel products